Automatic Electric Douche Enema Bulb
Sharp Weapon: Sharp Weapon(N)
Electrified: Electrified(Y)
Back-flow Prevention Technology - Breaking the traditional way of water supply, this automatic enema device adopts one-way valves to prevent the dirty water from flowing back, making sure that you can enjoy the advanced and hygienic way of cleansing method.
Automatic Sprinkler Design - Adopting innovative electric water spray technology, this enema bulb douche has 3 intensity modes, 5 spouts, providing an all-round cleaning method for higher efficiency and easier cleansing process, giving you the best douche experience ever.
Multiple Functions - This electric enema bulb is easy to use and effective shower for a thorough hygienic cleansing. Suitable for men and women's health, ideal for colon cleansing, regular cleaning, helps to get rid of bacterial infection, constipation, to live in a healthier lifestyle.
Superior Body-safe Material - The enema kit is made of high-end body-safe soft silicone material to provide safe, smooth and comfortable using experience. The nozzle is also made of high quality body-safe silicone and ABS materials, making it easy to insert and 100% safe to use.
Adorime Service & Warranty - We offer 100% satisfied after sales service. Please contact us if you have any questions or need any assistance, we will provide you a happy solution.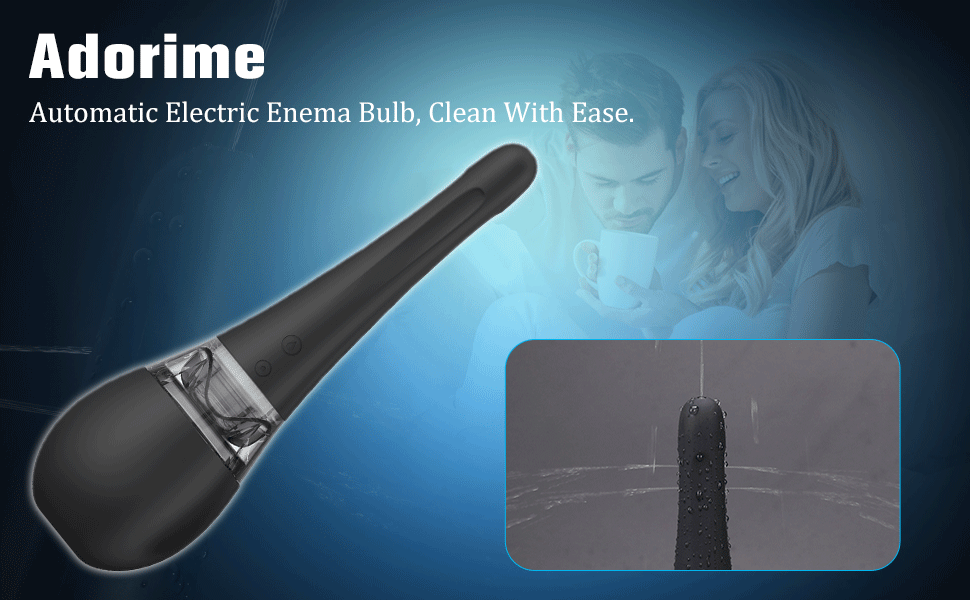 ►Professional Enema Bulb for Men & Women Health
To help people care for their personal hygiene, we develop this cleansing system for men and women to live healthier life. With this kit, people can easily do the cleansing job at home by themselves.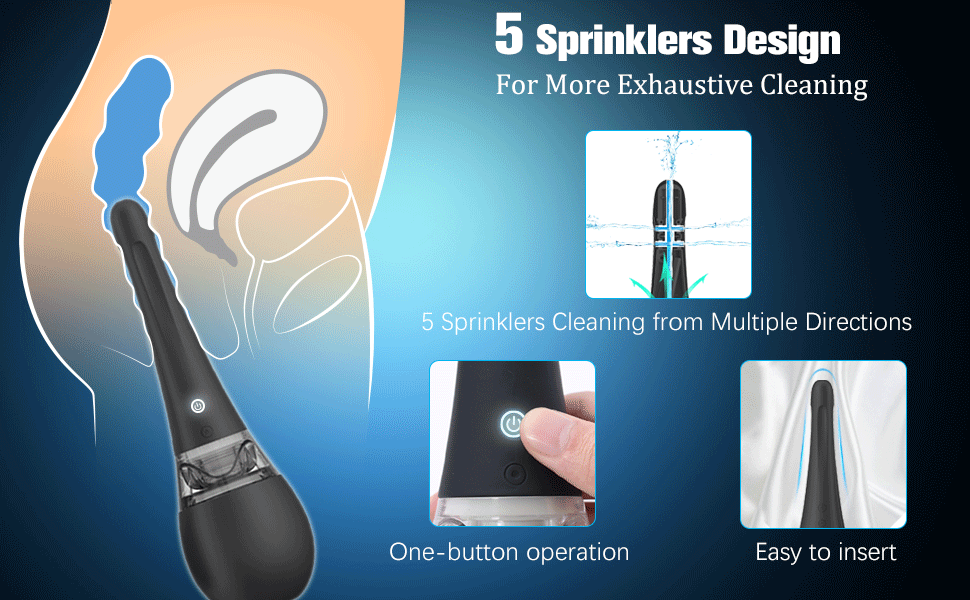 ►Automatic Sprinklers
The enema for women has 3 spraying modes and 5 spouts from different directions to make it more efficient, cleaner and more thoroughly.
►Made of High Quality Silicone
This enema bulb is made of medical grade silicone which is free of harmful substances and it's odorless. It gives you smooth skin-like touch for easy and comfortable inserting.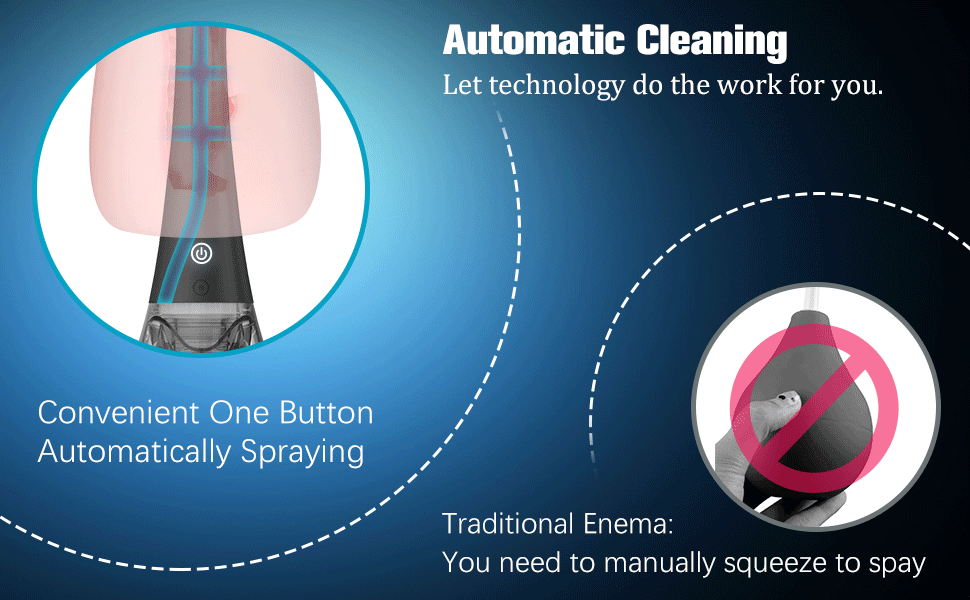 ►USB Rechargeable
This enema kit can easily be charged by the included USB cable, so you don't need to worry about going out to buy new battery during using process, plug it in to your phone charger, power bank or computer, convenient as that! You can use it for 2 hours after a full charge.
►One Button Operation
This enema for men is quite smart, you just need to press the button then it will do the rest of the job for you, you don't need squeeze the bulb like the traditional enema bulb.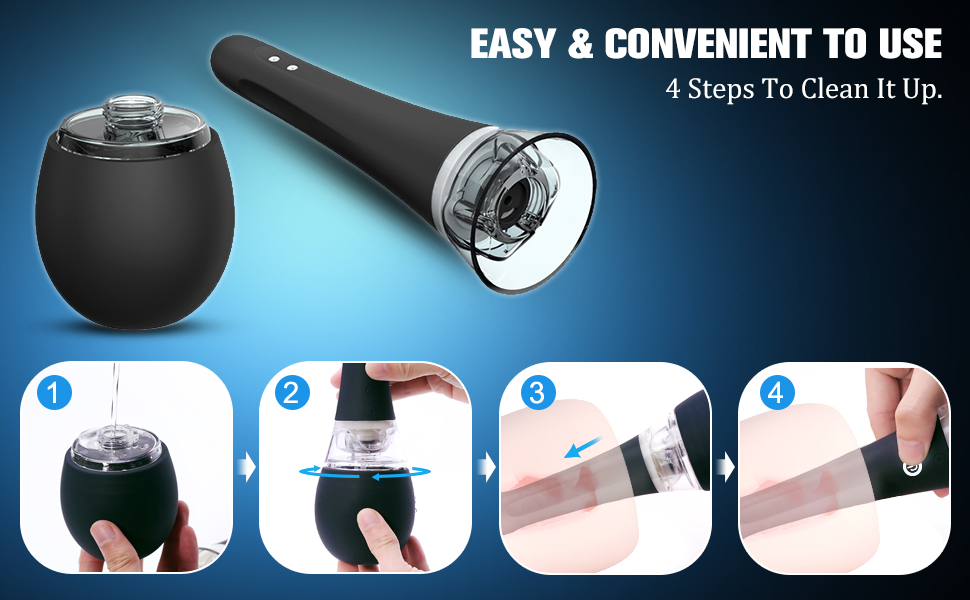 ►Easy To Use
Step 1:Unscrew the upper part of the device and fill the bottle with water.
Step 2:Screw the cap of the bottle, make sure the water does not get out.
Step 3:Insert the enema bulb gently into your body for cleansing.
Step 4:Hold down the power button for 2s to turn on the enema and single-click to choose the spraying intensity, that's all!
►Make sure to clean it before and after each use, please use mild soap and a damp cloth to wipe it clean.